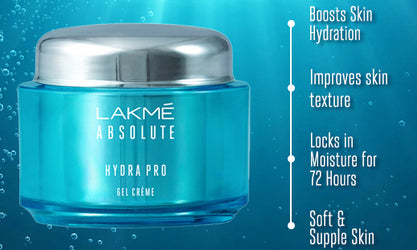 Hydrating your Skin For A Refreshing Complexion
Hydration is the key component in maintaining your body and organs and to keep them functioning like one happy family. Hydrated skin is also crucial in maintaining a healthy and glowing complexion. Here are 5 key benefits linked to hydrated skin with a smart skin care regime. 
Improves Skin Elasticity
Hydrating your skin helps to boost your skin's ability to stretch and snap back into its place. Low hydration leads to your skin cracking, looking leathery and saggy. So skip the fuss and boost your skin elasticity with the right Day and Night cream that promotes hydration.
Reduces Wrinkles
Plump out your skin and get away with dead or dull skin cells by polishing those wrinkles that age you out! Foster a wrinkle-free skin tone with the right skin care routine.
Keeping skin oils balanced
Contrary to popular belief, dehydrated skin can make you look quite oily. Your skin has a mind of its own and the lack of moisture signals your glands to start producing more oils which can lead to you having an oilier appearance. This can be balanced out by rehydrating your skin!
Improves Skin Shielding
When your skin is constantly healthy and hydrated, it is well equipped to fight off any environmental aggressors that prove unhealthy towards your skin. With the help of added antioxidants, shielding your skin from harmful invaders can become even easier.
Detoxing
When skin cells are healthy it has the unique ability to flush out any and all toxins that can make your skin look dull or aged out. The special ability in your skin to detox itself is mainly reliant on hydrating your skin effectively.