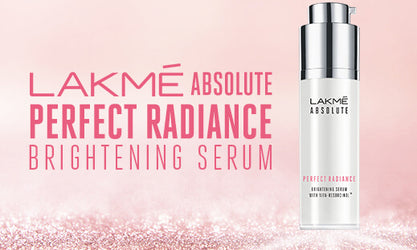 The Secret Serum Behind Glowing Skin
May 9, 2022
Serums are often thin-viscosity topical products which have concentrated amounts of active ingredients and provide the users with a more powerful dose of those active ingredients and go well together with a Day and Night Cream.
The Lakme Absolute Perfect Radiance Range Serum can be used after cleansing and prior to moisturizing your skin with the Day or Night creams.
Looking for quick results? Adding a serum to your routine can prove even more effective in illuminating your skin tone as serums contain large amounts of active molecules which penetrate the skin's surface and give you a better efficacy rate with its higher concentration.
But don't forget, you also need to ensure that the serum is sealed and this is where your day and night cream comes into play. The Lakme Absolute Perfect Radiance Range Day and Night Creams prove highly effective when combined with the Serum to radiate your skin and polish out any blemishes.
Just think of a serum as a secret weapon in your arsenal for treating skin issues such as discoloration, dullness, fine lines, or even acne — and your day and night creams as moisturizers that are the keys to hydrating your skin.