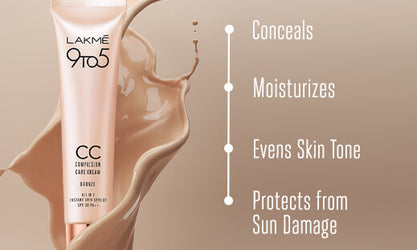 What is Complexion Care?
June 30, 2022
The "complexion care" magic of the Lakme CC cream range is actually less about matching your skin color and more about camouflaging the problem areas of your natural skin tone. The diversified range with four different shades help you choose the color that matches your skin!
When you purchase the accurate shade of CC cream for your skin tone, you basically take out the presumptions out of complexion care because the product will tone, even, and blend into your skin while polishing out any blemishes.
Benefits of Complexion Care
CC creams have one upped most makeup products as the cream shields your skin from many harmful UV rays that can lead to skin diseases. The traditional foundations claim to have anti-aging ingredients, however,  there is nothing that preserves and protects your skin better than the good old SPF!
CC creams are an excellent product for all skin types including skin which is likely to create an oil buildup. CC creams can work advantageously for oily skin — in contrast to BB (beauty balm) cream, CC cream is much less oilier and it feels even more lighter on your skin.
The cream helps you moisturize your skin, protect from sun damage, and even out your complexion to give you the perfect triple-solution.